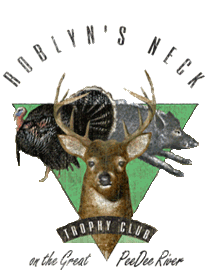 Roblyn's Neck | Bow
1 800 893 BUCK
www.roblynsneck.com
Bows, bucks & boars: Archery is always welcome at Roblynís Neck.
You choose bow hunting for the primal, back-to-basics experience it delivers. Now choose a destination that gives you the room you need to get up close and personal, whether itís deer, hogs or turkey. Roblynís Neck Trophy Club is a bow hunterís paradise. Weíve set aside several well-placed stands exclusively for archery. Under guidance from the South Carolina Department of Natural Resources, we manage native vegetation and supplement these forages with planted food plots and corn during critical periods of the year. The result is more, healthier game ó and a first-class bow hunting experience.
The SCDNR has also recommended that we allow our bow hunters to harvest a limited number of management bucks during a special, bow-only season lasting for two weeks. This season occurs during the last two weeks of August. If youíre a serious archer, donít miss this great opportunity to land a trophy buck still in full velvet.
One-, Two- and Three-Day Hunts
Our most popular package is a three-day hunt, which includes two overnights and six meals. One- and two-day hunts are also available. Donít forget our special bow-only season, August 15-31.
Package price: $550 per day; $1,500 for three days*
* Pricing subject to change
Call us about discounts for groups of 12 or more