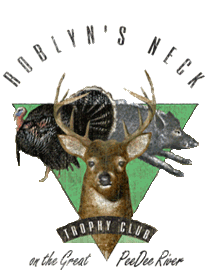 Roblyn's Neck | Hunting
1 800 893 BUCK
www.roblynsneck.com
Your trophy awaits at Roblynís Neck, Carolinaís premier hunting destination.
Whether youíre hunting big game or small, Roblynís Neck Trophy Club is where you want to be. It all starts with the land. The club's property is quite diverse, with planted food plots, lakes, creeks, rivers, mature pine stands, thinned pines, hardwood bottoms, clear-cut areas and tupelo cypress sloughs. And thereís a lot of it. Roblynís Neck is located in the center of a contiguous 25,000-acre tract adjacent to the Pee Dee River in Darlington County. This is prime whitetail deer habitat, but other game is just as plentiful. Youíll find hogs, quail, doves, squirrels, rabbits and coons in great abundance at Roblynís Neck.
To keep numbers up and ensure our game stays healthy, we work closely with the South Carolina Department of Natural Resources. SCDNR biologists and wildlife specialists provide ongoing guidance, helping Roblynís Neck to produce the largest and oldest buck population possible. This explains why our guests regularly take trophy-class bucks, including some that have been inducted into the South Carolina record book.
The only thing better than the hunting is our hospitality. Our spacious clubhouse complex is located in the middle of the Roblynís Neck property, miles from pavement, people or problems. Here you can concentrate on the action in every conceivable still-hunting opportunity. Come for one-, two- or three-day hunts, but come once, and weíre confident youíll become a Roblynís Neck regular.